What is it?: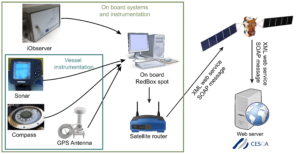 The iObserver is an electronic device that allows to automatically identify and quantify the whole catch on board fishing vessels. It consists of:
An industrial vision camera.
An industrial computer equipped with image recognition software.
A lighting system.
Such elements are protected by a metallic case able to resist the harsh conditions on the fishing parks.
Main characteristics:
Dimensions/Weight: 40x23x26 cm/18 kg.
It is located over the conveyor belt, just before the fish separation zone.
It can be installed on a wide range of fishing parks.
It is equipped with a Graphical User Interface (GUI) easy to handle and that requires minimal user interaction.
Automatic image acquisition by means of a system of sensors that avoids image repetition.
It allows training new species through the GUI.
Identification results are combined with vessel instrumentation data. Then, they are sent to an in-land center for further analysis.
Results obtained during the project:
17 species of commercial interest are already trained. Such species can be found on the following fishing grounds: Great Sole, Northwest Cantabric, Portugal and NAFO.
It has been intensively tested in 10 oceanographic campaigns and in 9 commercial trips, in which, more than 200.000 images were taken.
Identification accuracy larger than 90% for separated individuals with a size estimation mean error lower than 3%.
Images:
Manual:
You can download the manual in the following link  LIFE iSEAS iObserver Manual